Well. That was a mixed reading week for me… I read some things that I sped through and really REALLY loved. And I read other things that felt like they took me forever to get through and that I was kind of meh about.
Let's wrap up June 10th to 16th, shall we?
Books read: 6
Pages read: 2,357 pages (a whopping seven pages more than last week!!)
#1: The Unquiet Grave by Sharyn McCrumb
Audience: Adult
Genre: Historical fiction
Plot summary: In 1890s West Virginia, a young woman – newly married – is found dead. Her mother thinks the husband did it, especially after she sees her daughter's ghost. In an asylum in the 1930s, an African-American lawyer involved in the case tells his side of the story.
Thoughts: I only read this because it's set in West Virginia. Gotta tick those goal boxes, yo. I found the stuff set in the 1890s completely gripping. The ghost side of things never appears on the page, and you're not sure whether Mary Jane is making it up in an attempt to get justice for her daughter or whether she genuinely did see her daughter's ghost.
This is based on actual events, which I found FASCINATING. It took a really long time for me to understand why James' part of the story was relevant, though I was enjoying reading it while I was miffed about its relevance. I found it slow at times, which hindered my enjoyment of it, but on the whole it was pretty decent!
Rating: 3.5 stars
#2: The Book Ninja by Ali Berg and Michelle Kalus
Audience: Adult
Genre: Romance
Plot summary: A 20-something woman working in a book store decides that the perfect way to find the love of her life is to leave her favourite books on Melbourne public transport with her email address in the back.
Thoughts: This was laugh-out-loud funny on multiple occasions, and I LOVED the fact that it's set in Melbourne and relies heavily on public transport because…it me. I loved how bookish it is, and the whole idea of leaving books on public transport was super fun.
However. Frankie is SUPER judgemental. She judges her friends, she judges her family members, she judges random strangers for the books they read. She thinks adults reading YA is worse than reading nothing at all. And, like, FINE. Some people are like that! God know I am at times. But her judgement was so constant that it made it difficult to be in her head.
Add in the fact that her "second best friend" is a seventeen year old schoolboy (GIRL. NO.), the fact that she keeps dating other people FOUR MONTHS INTO A RELATIONSHIP, and that she's really really terrible at using her words, and I just…oof. I gave this four stars when I first finished it, but the more I think about it, the more I don't like about it. Sigh.
Rating: 3 stars
#3: The Cutaway by Christina Kovac
Audience: Adult
Genre: Thriller
Plot summary: When a woman disappears in Washington DC, a news director takes it upon herself to investigate the case.
Thoughts: This was incredibly compelling reading. I was hooked basically from the first page. It was gripping, it was tense, and it was fascinating to see the story unfolding from a journalist's perspective. There's a lot of "okay, we need to keep this story in the news, how are we going to do that?" type of stuff, which makes perfect sense now that I read about it, but which I'd never thought of before. There's a lot of "how can we get the right camera angle?" and "we need to find someone who can corroborate this information?" going on, and I thoroughly enjoyed it.
I will say that there were a few little side plots thrown in that seemed…slightly irrelevant? I mean, the whole thing with Virginia having to drop everything to go and visit her estranged father in hospital? It was clearly meant to add depth and background to her character, but it just didn't really do anything except allow some time to pass so that further developments could be made in the case of Evelyn's disappearance. Still, that's a pretty minor gripe.
Rating: 4 stars
#4: Save the Date by Morgan Matson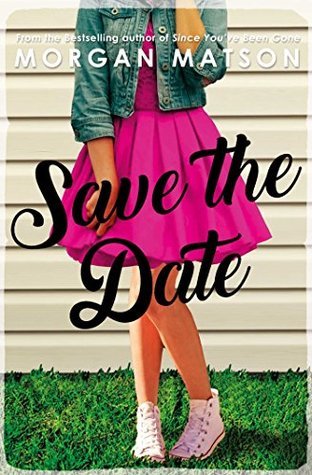 Audience: YA
Genre: Contemporary
Plot summary: Charlie's older sister is getting married, and she can't wait because it means all her family will be in one place for the first time in ages. Ridiculousness ensues.
Thoughts: This is one of my most anticipated books of the year. I mean, it's Morgan Matson. Of course it's one of my most anticipated books of the year. First of all, the Australian cover is hideous and it needs to go away forever. It's indescribably generic and the US cover is perfect why the hell would you change that??
Anyway. I ADORED the family dynamic in this story. It's complicated and messy but at the same time, they so clearly love each other deeply and the story is full of in-jokes and games that they play and the best friends of each of the siblings being a part of the family.
Unlike Matson's previous books, there's far less emphasis on romance here, perhaps because it's set over a 2-3 day period and there's not really time for there to be an emphasis on romance. And I for one was totally fine with that. I did think that parts of the story were predictable, but I didn't really care because I loved this so much.
Rating: 4.5 stars
#5: The Kiss Quotient by Helen Hoang
Audience: Adult
Genre: Romance
Plot summary: Stella, a 30-year old woman on the autism spectrum, turns to a male escort to improve her understanding and comfort with relationships. They fall for each other along the way.
Thoughts: THIS WAS SO STINKING GOOD. I mean, it's a romance book featuring a woman on the autism spectrum. The autism rep is Own Voices. The love interest is a biracial male escort who's really close to his family and is working as an escort to pay his mother's medical bills. All of that sounds FABULOUS to me. And it was.
The dynamic between Stella and Michael is great. I loved that she worked in economics and was so passionate about her job. I loved that his family played such a significant role in the story and that he has this whole other life going on outside of being an escort. I love that there's no real stigma around the fact that he's a sex worker.
Look, it's basically Pretty Woman but not. It's a fairly predictable storyline. But I gave zero fucks because it was fast paced and pretty damned smutty and generally fabulous and I sped through it in a couple of hours.
Rating: 5 stars
#6: Lifel1k3 by Jay Kristoff
Audience: YA
Genre: Sci-Fi
Plot summary: After the robot gladiator Eve spent months building is destroyed in a fight and discovers that she has the power to fry electronics with her mind, she discovers a boy crash landed in her house. Except he's not human – he's a lifelike. A robot so closely resembling a human that you can't tell the difference. Something beyond illegal.
Thoughts: So here's the thing: I think Jay Kristoff is a generally great human being. I ADORE the Illuminae Files. I thoroughly enjoyed Stormdancer. I loved Nevernight. But this is not really my type of sci-fi. (And yes, this has more to do with me than Jay Kristoff, but whatever)
Over the years, I've watched sci-fi classics like Mad Max and 2001: A Space Odyssey and come to the realisation that I just. don't. get it. Like, I enjoyed the Mad Max movies when I was watching them, especially Fury Road. But at the same time, I was never engaged in the story.
And I found the same thing here. I enjoyed it. I liked the characters, especially Lemon Fresh. But I wasn't hooked. I wasn't engaged in the story. So this is definitely more about me than the book, but for me it was a situation where I liked all of the ingredients – the author, the writing, the characters, the concept – and then when they were all mixed together, I was left with red velvet cake – it looks pretty and some things about it are great (cream cheese icing, mostly), but then you bite into it and it's flavourless and it leaves you a little disappointed. This analogy has gotten weird, so I'm just going to stop rambling now…
Rating: 3.5 stars
What have you been reading recently?