This whole catching up thing is…not going great. But I'm trying?
#66: What I Like About Me by Jenna Guillaume
Audience: YA
Genre: Contemporary
Plot summary: An Australian version of Dumplin' with more references to Dirty Dancing, basically.
Thoughts: I absolutely adored this. Maisie is a delightful character. I loved that it featured a lot of complicated friendships and how much it focused on body positivity. I loved Beamer, who's kind of an asshat but also completely adorable. And I loved that it's an Australian summer YA story because basically every summer YA book I've ever come across has been set in the US, and it was nice to see a summer Christmas on the page. It's only about 200 pages, so it's a very quick little read and I loved every second of it.
Rating: 5 stars
#67: Only Daughter by Anna Snoekstra
Audience: Adult
Genre: Thriller
Plot summary: Eleven years after teenage Bec disappeared, someone claiming to be her appears. Soon, the imposter is living Bec's life, only to find that all is not as it seems.
Thoughts: This book was………it was fucking weird, my dudes. It's set in Canberra, which I loved because it felt very familiar a lot of the time. But that aside, this 250 page book took me FOUR DAYS to read because I just didn't give a shit. The first 200 pages was indescribably dull and then in the last 50 pages everything went batshit crazy and I just…????????? It made zero sense and I didn't give a shit. I should have DNFed it, to be honest.
Rating: 2.5 stars
#68: Pretty Girls by Karin Slaughter (Reread)
Audience: Adult
Genre: Thriller
Plot summary: When Claire's husband is murdered, she reunites with her estranged sister to investigate some weird things she discovered at their house after his death.
Thoughts: I decided to reread this as a palate cleanser and I'm so glad I did. This book features trigger warnings for basically anything you can think of, but it's SO GOOD. I loved the sister dynamic in the story and how much their relationship is at its core. I loved the characters. I loved the writing. I loved how even knowing the big plot twist that I was still hooked from start to finish. It's incredibly gory and it honestly makes me worry about Karin Slaughter and the things her brain comes up with. But it's SO. STINKING. GOOD.
Rating: 5 stars
#69: Catching Teller Crow by Ambelin and Ezekiel Kwaymullina
Audience: YA
Genre: Crime
Plot summary: Beth Teller is dead. Her father, a police officer, is the only person who can see her. Now, they have to work together to solve a mystery…
Thoughts: This book is tiny – barely 200 pages – and it's a split narrative. Beth's story is told in prose and Catching's story is told in verse and has a very magical realism sort of a feel to it. I was honestly uncertain about this book until the big reveal near the end and then all of the pieces clicked into place at once and I realised just how clever it is and I loved that. Also, it's a story by two Indigenous authors about two Indigenous protagonists, which YES.
Rating: 4 stars
#70: Jack of Hearts (and Other Parts) by Lev A.C. Rosen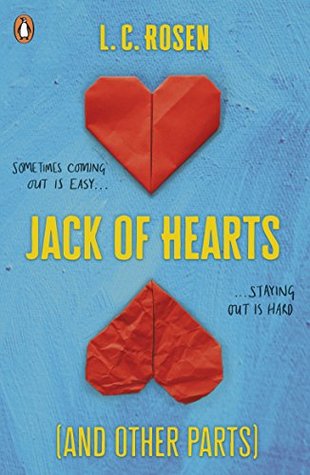 Audience: YA
Genre: Contemporary
Plot summary: A gay teenage boy starts writing a sex advice column and finds himself being stalked as a result.
Thoughts: I was super excited about reading this book because queer sex positivity is something that's very much needed in YA. And the fact that it involved a mystery element was right up my alley. It's a surprisingly funny book a lot of the time, and the columns that Jack writes are *chef's kiss*.
However. I didn't love Jack as a protagonist, to be perfectly honest. And I felt like the ending was really rushed. And frankly, there were many occasions when the police should have been involved and at every single one of those times, Jack would insist that the police not be involved and DUDE. STOP IT.
So yeah. I really wanted to love this one. But ultimately, it fell short for me. Sigh.
Rating: 3.75 stars
What have you been reading recently?